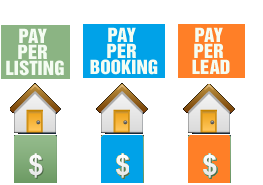 Get the most returns with any of
our do-it yourself listing options



Choose the listing option
that is best for your business
| | | | |
| --- | --- | --- | --- |
| Choose One: | | | |
| Upfront cost | from $119 | $0 | $0 |
| Cost per booking* | $0 | 10% | $0 |
| Cost per lead | $0 | $0 | $8 |
| Communication with travelers | Unlimited | Limited | Unlimited |
| | Learn more | Learn more | Learn more |
ONLINE LOGISTICS FULL SERVICE - Hire a professional
VACATION RENTAL MANAGEMENT SERVICES -
Interested in maximizing your vacation rental revenues and working less? Team with us to manage your vacation rental business.
Learn more
*
Our "Pay per Booking" listing option is available by invitation only. There a one-time account verification fee of $49 for first time customers. 
Testimonials


Our villa is St Martin is listed online with a multitude of travel lodging websites, and we have found that Rentalo.com to be among the most efficient and better organized sites in connecting vacation owners to traveling guests. Rentalo.com lists a broad inventory of vacation homes and has an online audience of more than 100 million travelers in the United States and abroad along with distribution partners, and journalists and editors who promote the Rentalo site through press releases and newsletter publications. The site is accessible through numerous search engines, and that has resulted in a heavy online traffic for our villa and a large number of rental requests. Our investment in Rentalo.com has more than paid for itself.
Alain, Rentalo ID 119808
As long as I will own and manage my beautiful vacation rental on the Northshore of Kauai, I will rely on my listing with Rentalo to steer guests to my site, and I must b`e one of the original subscribers.
Dr. Paul Weinberg, Rentalo ID 117185
I have advertised my villa with`r several years and have received an excellent level of enquiries, A significant number of these have been converted into firm bookings and more than covered the advertising cost. The website is easy to use and the auto quote function is excellent.
Christopher J. Drew, Rentalo ID 202099
PAY per LISTING ... Our MOST POPULAR listing subscription
1000% ROI Guarantee – Owners are guaranteed to receive 1000% returns on their investments, eliminating the risks involved in paying an upfront fee.
Minimum Leads Guarantee
(
new!
) – Owners are also guaranteed to receive a minimum number of leads, reducing even more all the risks involved in paying an upfront fee.
Highest Return Potential – Pay a flat fee, saving on per booking fees, and increasing your profits.
Unlimited Communication with Potential Guests – Retain total control of the pre-screening process in order to make sure bookings go as smooth as possible. Contact travelers directly via phone, email, or via Rentalo's messaging tool.
Powerful Marketing Tools
– Reach 1.3 million opted-in travelers via our weekly newsletters, take advantage of proactive marketing tools to reach more travelers, improve listing's placement in the search results, and many more!
Learn More
PAY per BOOKING ... Our NEWEST listing option
No Upfront Costs – This option is ideal for owners starting their vacation rentals or hospitality business.
No Risk – Pay just 10% fee per confirmed booking (traveler also pays 10%) -- Owner can still pre-screen travelers prior to confirming bookings (all bookings require manual confirm (or decline) from owners).
Free Messaging Tool
– Send and receive unlimited messages to travelers via Rentalo's messaging tool (limited communication with travelers = no direct contact is allowed).
Learn More
PAY per LEAD ... Great option for businesses with large inventory
High Volume – This option is ideal for vacation rental businesses with large inventories who can handle a large number of referrals.
Top Quality Phone & Email Referrals – All our email leads are email-verified and/or phone validated -- best conversion ratios in the industry!
XML Feeds Available
– Take advantage of Rentalo's XML import facilities to import your inventory.
Learn More
FULL SERVICE ... Hire a Professional to help you with your business online logistics
Get help creating professional online ads, updating seasonal rates & availability calendars, answering inquiries, managing bookings & cancellations, and much more!
Learn more
Have any questions about our services?
Please call our friendly staff at +1.305.558.5577
for a free consultation
<!—custom code 2--> <!—chat code for rentalo-->