Create Account Today

Frequently Asked Questions
Why should I advertise my property in Rentalo.com?
Rentalo.com is a leading vacation rentals and lodging directory. We specialize in providing lodging negotiation and comparision shopping tools to assist individual travelers, corporate travelers, and government agencies to do comparision lodging by presenting them with tools to easily and quickly search, inquire, compare, and book vacation rentals hotels, and bed & breakfasts. In addition, when you advertise in rentalo, your listing's content will be distributed via Rentalo's RSS feed partners and affilliates to over 100 travel portals, blogs, newspaper publications, and social media sites, gaining an estimated reach of 100 million monthly travelers per month.


What type of leads will Rentalo send me?
Rentalo generates four types of leads for inventory clients:
Destination Leads - Unlike any other site in the travel industry, Rentalo allows travelers to broadcast a inquiry to multiple properties in one destination (and vicinity) at once. Internally, these inquiries are sent to managers of property listings that match the traveler´s inquiry criteria. Available properties reply with offers. Travelers can compare offers from hotels, vacation rentals, and b&bs, and choose the best one that meet their specific lodging needs. These leads are only available to Premium and Sponsor listing subscriptions.
Private Leads - These are inquiries sent by travelers from individual property listings, after seeing photos, description, rates, and availability information.
Phone Leads - If you have a posted phone number on your paid listing ad (standard, Premium or Sponsor), travelers will be able to contact you via phone. You may also add a 'click-to-talk' button, and an 800 toll-free extension to your listing to faciliate travelers to reach you when browsing your listing by subscribing to our
EZ Calling program
.
Website Leads - If you have a banner ad or a Sponsor listing, we will also refer travelers to your own website.
Is it true that Rentalo allows owners to upload unlimited photos?
Yes, you can add as many photos as you like. We believe photos are one of the most powerful ways to market and sell your property. Your photos will be displayed in two areas; in a flash gallery slideshow in the upper part of your listing, and also down below including the photo tags. It is a fact that the more photos you show (we recommend 10-20), the higher will be the inquiry-to-booking conversions, resulting in more booking revenues.


Can I add a video or a map of my property in my listing?
Yes, you can embed your YouTube video to your property listing at no additional cost. Videos will increase your chances of getting bookings. You can also place a Google Map so travelers know exactly where your property is located.


How does the Auto-Offers Feature Works?
Upon activation, Rentalo can generate instant offers for your property (using provided pricing & availability information) to travelers upon submission of their inquiries. Our Auto-Offer feature provides these key benefits:
- Owners can get more bookings from Rentalo as a result of travelers being able to get offers immediately upon submitting their inquiries.
- Owners save time by not having to reply to individual inquiries.


How does the Special Offers Feature Works?
Special Offers are included in our "Best Value Accommodation Newsletter" which is mailed to opted-in travelers on a bi-monthly basis. Rentalo's Best Value Accommodations Newsletter is an excellent proactive marketing tool for assisting property owners with acquiring more bookings and better returns on their investment (ROI). Special Offers are also syndicated on Social Media Networks like Facebook and Twitter.
Choose the listing option that is best for you: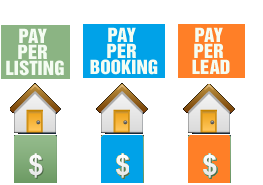 | | | | |
| --- | --- | --- | --- |
| Choose One: | | | |
| Upfront Cost | from $119 | $0 | $0 |
| Cost per booking | $0 | 2.9% | $0 |
| Cost per lead | $0 | $0 | $8 |
| Communication with travelers | Unlimited | Limited* | Unlimited |
| | Learn more | Learn more | Learn more |
Compare Pay Per Listing Options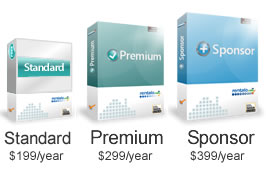 Sponsor
Premium
Standard
| | | | |
| --- | --- | --- | --- |
| Web Page Listing | | | |
| Private Leads | | | |
| Destination Leads | | | |
| Priority Placement | | | |
| One-Way Link | | | |
| Marketing Boost | | | |
Have any questions about our services?
Please call our friendly staff at +1.305.558.5577
for a free consultation
<!—custom code 2--> <!—chat code for rentalo-->