Create Account Today

Testimonials from real property owners

Dr. Paul Weinberg, here, owner and operator of Cabot Shores Wilderness Resort on Cape Breton Island, Nova Scotia, Canada. I have been using Rentalo for 4 years and most recently, during tough economic times, Rentalo has exceeded my expectations 3 important ways: 1.. A referral from Rentalo resulted in a client couple renting a vacation villa for 4 months; they loved our resort and visited countless waterfalls, hiked the Highlands and themselves referred 8 more guests to Cabot Shores. 2 Rentalo's search engine promotion got Cabot Shores in December to the top of AOL travel recommendations 3 A number of prospects/guests saw our lobster fishing video as a result of Rentalo promotion and booked adventure packages with us and extended their stay at Cabot Shores. My business results are up 40% during a recession. I give Rentalo thanks for helping our business excel during what are otherwise tough times.
Dr. Paul Weinberg, Rentalo ID 117185

Dear Dedicated Rentalo staff, When we first decided to rent our condo in Hawaii we wanted to ensure that it was presented in an honorable manner. We checked several companies and found Rentalo to be the most organized. A few years have passed and we are so pleased with the service. When I telephone your company I always get through to an educated person, that represents any changes I would like to make with ease. The constant upgrading is most appreciated. Mostly, I feel that the guests feel that they are dealing with a reputable company, which puts everyone at ease. Mahalo for your kindness over the years With Aloha.
Shannon and Neil Cormie, Rentalo ID 199671

Our villa is St Martin is listed online with a multitude of travel lodging websites, and we have found that Rentalo.com to be among the most efficient and better organized sites in connecting vacation owners to traveling guests. Rentalo.com lists a broad inventory of vacation homes and has an online audience of more than 100 million travelers in the United States and abroad along with distribution partners, and journalists and editors who promote the Rentalo site through press releases and newsletter publications. The site is accessible through numerous search engines, and that has resulted in a heavy online traffic for our villa and a large number of rental requests. Our investment in Rentalo.com has more than paid for itself.
Alain, Rentalo ID 119808

I have advertised my villa and studio through Rentalo during year 2009. As a result I have received numerous enquiries, many of which have become confirmed bookings. I look forward to working with Rentalo, especially now they have teamed up with Vocus, throughout 2010. I look forward to a prosperous year. Thank you for your dedicated service.
Clare Littleton, Rentalo ID 172273

I have tried several vacation rental sites and only rentalo managed to give me an exceptional number of hits and most important actual reservations. If was off last year but the economy and not the service was the problem. I own this small r v park 6 cabins and full bar and cafe and will renew my fees and knowing I am getting full value for the money---OWNER--GERALD KUPKA. By the way they always answer the phone with a live person!
Gerald Kupka, Rentalo ID 174101

I have advertised with rentalo since 2003. I get far more emails from your site than any other I advertise on. Your site is so easy to use and soon puts potential guests in touch with home owners.You have a wonderful service. where any problem/question is soon dealt with. The live chat is a fantastic service. Good work!
Susan Dyson, Rentalo ID 17027

I have been a member of rentalo for several years, and the service has always been great and dependable. Thank you for helping me with my business owner these years.
Glynn Wheeler, Rentalo ID 96873

Rentalo has been my major source of referrals since I joined 4 or 5 years ago. I like it because it offers direct communication between travelers interested in my destination (Tucson, Arizona) and me.
Sharon Arkin, Rentalo ID 1468

I have advertised my villa with`r several years and have received an excellent level of enquiries, A significant number of these have been converted into firm bookings and more than covered the advertising cost. The website is easy to use and the auto quote function is excellent.
Christopher J. Drew, Rentalo ID 202099

I have been using Rentalo for several years. I am very happy with the number of inquiries and bookings I receive from them. I am a small management company and I advertise on several sites. I am now listing every property I manage on Rentalo. This is the only site I spend this much with because I think they are worth the advertising dollars. Customer Service is also great. I have had several issues pop up that are not standard and they have worked with me. The company also is available most of the time and offers a timely customer service response. 10 listings (cottages & condos in Destin, Fort Walton Beach)
Kimberly Lang, Rentalo ID 37792

I am the owner of a beautiful vacation rental property in San Miguel de Allende, GTO, MEXICO and I have been listing with Rentalo since 1999 or 2000. Through your web site I have received many, many inquiries and have rented to several of your clients. I have watched you grow into a leader in the vacation rental market since joining your site near it's inception. It's very easy to navigate the site for both owners and travelers alike. You keep your listing prices to an affordable rate especially during this hard economic time. One of my favorite features is the fact that we as owners, can post as many pictures we see fit to promote our properties. And your availability calendar is easy to keep current and potential guests can understand it. When people ask me about renting my house in San Miguel de Allende, I send them to my Rentalo page of which I have the link printed on my business card. I have used other vacation rental sites but have found Rentalo to be the best for my rental needs. Thank you for all your help and service during these past 10 years and here's to many more years of rentals to come.
Craig Caffall, Rentalo ID 2834

We've owned our cabin in Breckenridge, CO for 10 years now. Initially, we were advertising on about 10 websites. When we became sponsor advertisers on Rentalo our rentals shot up, and we reduced our advertising expenses to 4 websites. Currently, most of our rentals are through Rentalo, so we'll probably reduce our advertising to even fewer sites in the future. We like the streamlined look of our web page on Rentalo and all the space available for pictures & information. When I talk to prospective clients and ask if they have any questions, the normal response is: very few, most everything was self-explanatory on the website. Besides the excellent advertising, Rentalo has also been great to deal with, always has given a quick response, and their customer service reps have always been extremely helpful. When I give advice to owners new to the industry, I always recommend that if they only advertise on one site they should make it Renta! lo. Log Cabin in Breckenridge, CO
Kathy Gough, Rentalo ID 13696

Your website generates a lot of leads and a good majority of my bookings. My favorite feature is the automatic offer. If I am not able to reply to a potential renter right away, at least they are being given some information about my unit so they have instant feedback and can see what I offer. Your website handles that automatically. I am notified that the offer is sent and can add to it when I am back at the computer. My property looks fantastic on your site and your layouts are great. Keep up the good work! Luxury Condo in Sanibel, FL
Shannon Paolocci, Rentalo ID 111237

We have utilized Rentalo for advertising our two rental properties for almost 8 years and have consistently received a majority of our inquiries from this source. We also advertise on several other sites; however, have noticed that Rentalo prospects tend to review our Rentalo ads more thoroughly when they submit an inquiry and are more knowledgeable about our amenities and availability. We also enjoy the periodic newsletters with helpful hints, and we've put many of these to good use. The auto-offer feature has helped break the ice when we make our follow-up calls.
Bill & Calina Eckert, Rentalo ID 2877

It doesn't matter how successful you've been in creating a perfect experience if you can't create the buzz around your property and get the word out. Rentalo.com takes the pressure off and brings a level of expertise to the table that we don't have, allowing us to focus on what we do best. Thanks Rentalo!
Jim Pickell, Rentalo ID 334513

WITHOUT A DOUBT RENTALO IS THE NUMBER ONE LINK TO GET THE EXPOSURE FOR OWNERS TO RENT THERE HOMES,I TRY OTHER LINKS AND I CANCELLED THEM BECAUSE THEY JUST DONT WORK, I RECOMEND RENTALO 100% TO ANY BODY THAT WANTS REAL RESULTS.
Guillermo, Rentalo ID 129238
I am not a techie' on the computer. For years, my husband and I have been running a small summer cottage rental business on Prince Edward Island. It used to be that most people made their reservations by phone. Then dawned the computer age. Thank heaven for Rentalo. I had tried many sites with very little return. Then I found Rentalo. Their site was easy to navigate, very easy to update AND I got a lot of inquiries from lookers - people just wanting to rent a cottage on PEI ! It gave me a chance to talk to real live prospects! It gave the lookers a chance to hear from me and compare me to others! What a switch from being a needle in the haystack listing. To this day, and I think I've been with Rentalo for over 5 years, it's still my favorite advertising site! Sue Smallwood.
Suzanne Smallwood, Rentalo ID 172194

I am an owner of casita at StarrPass Golf Resort in Tucson, Arizona and have been using Rentalo to advertise my property for a little over a year. Despite the economic difficulty of the past year, I was able to rent my casita for 22 weeks which is remarkable given the hot Tucson temperatures for four months. I attribute much of this success to the number of customers referred to me and my website from Rentalo. I am very satisfied with the Rentalo site, how easy it was to establish the advertising information and photos on the site and the service Rentalo provides its clients. I signed a two-year contract with Rentalo and am very glad that I did. I would recommend Rentalo to any property owner looking for an advertising site that delivers customers.
John Hanson, Rentalo ID 305328

GO-Cottage, 1920's Bungalow Vacation Destination located in Lake Placid, NY has been a dedicated customer since 2004! One of our most favorite features is the automatic offer. If we are not able to reply to a potential renter right away, they are emailed an instant quote. We also love the website design as it makes our property look amazing and I can even show our video tours too! There is also the calendar feature which also adds a lot of value. Thank you for all the high quality leads and referrals and for always being there over the years. Here's to many, many more!
Sharon Middendorf, Rentalo ID 94294

As long as I will own and manage my beautiful vacation rental on the Northshore of Kauai, I will rely on my listing with Rentalo to steer guests to my site, and I must b`e one of the original subscribers.
Dr. Paul Weinberg, Rentalo ID 117185

I love the fact that if a prospective guest wants to find something in the area that my rental is in, their inquiry goes out to all the owners in the area who meet the criteria of what the guest is looking for. This way, everyone who feels their rental is appropriate for the guest can submit their information to the prospect. It's also a time saver for the guest because they don't have to sift through properties that they aren't sure are available. I constantly recommend your site to travelers who are having difficulties finding an available property unsuccessfully through other sites.
Joni Knutson, Rentalo ID 14550

We have used the services of Rentalo for a number of years now they have exceeded our expectations in produceing referals from there advertising program at a reasonable price.
Walt Abbott, Rentalo ID 103562

I like to think that I am an early member of Rentalo. As my business has grown from one resort to three in the St Petersburg Florida market, Rentalo has been my partner in growth. Generating well qualified leads supported by excellent marketing programs, Rentalo and I have grown together! Make no mistake, several of my early advertising web sites have been dropped by me, but Rentalo continues to Rock! Sincerely
Jeffrey Solomon, Rentalo ID 22332

Rentalo is the only online vacation rental advertising service that consistently gets us referrals. No other has come close, probably by a factor of 10. We are cancelling most of our other listings and concentrating on Rentalo for 2010.
Dave Guerrieri, Rentalo ID 39154

We signed on with Rentalo about a year ago with a little skepticism. We wasn't sure we wanted to use a system with broadcast/destination leads as we'd heard they weren't of a great quality. Now we can say, we are very happy with Rentalo both in terms of quality and quantity of guests sent our way. Furthermore, Rentalo continues to find opportunities to enhance our listings for guests, without gouging us like some of the other vacation rental listing portals. We'll definitely renew our listings.
Melinda DiPerna, Rentalo ID 208620
Rentalo, I have been with 'Rentalo.com, for several years. There advertising is so unique, and certainly is top notch. The day I began advertising with Rentalo, I could not keep up with the demand for potential renters. I stay booked from there advertising most of the year. ! It is with great pleasure, that I as an owner, am part of Rentalo. Also the staff is so gracious, and so helpfull. I definately would consider 'Rentalo, number #1 for advertising.
Diane Adams, Rentalo ID 5823

The quality of service my company has experienced and the ease of use that Rentalo's web site offers property managers is second to none. With out the exposure that my beach house gets from listing with Rentalo I would have had little hope of making it through the difficult down turn in the economy. Thank you to every one at Rentalo for helping my company thrive in a challenging economy.
Morrison` H. Groff, Rentalo ID 4766

We recently started using Rentalo for our vacation listings during the past year. I can definitely see an increase in my inquiries and exposure to my website. When I have needed assistance, the Rentalo team has been very professional and knowledgeable. I have always had my questions answered promptly and completely. I would highly recommend Rentalo to other vacation property owners.
Mary Colon, Rentalo ID 312513

Rentalo has been a mjor factor in renting our condo in Destin, Florida. We have been very successful thanks to Rentalo!!!!!!
Marlene Beal, Rentalo ID 37748

For us the assurance that your company is working hard to help us create jobs and keep owners and travelers happy; makes us happy. Thanks!
Sheri Thomas, Rentalo ID 172849
I have been listed with "Rentalo" for 6 years and have received many bookings because of this. They offer unlimited photos and this is a real plus! No other sites offer this to my knowledge. Their "owners area" is easy to move around in to make changes and on the few occasions that I have needed to contact them, their response has been quick and helpful. Thank you Rentalo! Donna Funicello, Owner of Stone Tree Little Ceynot in Tulum, Quintana Roo, Mexico.
Donna Funicello, Rentalo ID 94927

We list with Rentalo because of the variety of services they offer. In addition to providing the must-have features found on other vacation rental sites, Rentalo goes above and beyond by offering Google Maps and streaming video to showcase your property. We've also taken advantage of their banner ad and special offers options. As one of the most popular vacation rentals in Turks & Caicos, Sunset Point Oceanfront Villa is pleased to be listing with Rentalo, one of the most popular websites for rentals on the internet.
Bob Bouknight, Rentalo ID 228157

We own two properties, one in the Caribbean and one in Southwest Florida; our listings with Rentalo have filled more than enough weeks in the year. The information we receive is accurate, the prospects are qualified as well as they can be and the service at Rentalo has been excellent. I recommend the company without hesitation.
Steven B. Stevens, Rentalo ID 5545

I have listed my Paris apartment w/Rentalo for the past couple of years. They have sent me many leads which turned into confirmed bookings. I would highly recommend to use this website for searching the next for places to stay all over the world. They have an extremely great selection of homes.
Nancy Rudick, Rentalo ID 207198

I think I may have been the first Canadian B&B type accommodation to register with Rentalo. Because I have kept my rates low, in my modest home, I have been pleased to hear from Rentalo many times over other advertising venues. Because Rentalo advertising rates are reasonable, I am able to continue advertising with them and value the information received from inquiring travelers. Keep up the good work Rentalo!
Doreen Wensley, Rentalo ID 22163
Choose the listing option that is best for you: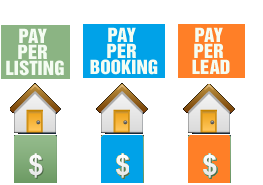 | | | | |
| --- | --- | --- | --- |
| Choose One: | | | |
| Upfront Cost | from $119 | $0 | $0 |
| Cost per booking | $0 | 2.9% | $0 |
| Cost per lead | $0 | $0 | $8 |
| Communication with travelers | Unlimited | Limited* | Unlimited |
| | Learn more | Learn more | Learn more |
Compare Pay Per Listing Options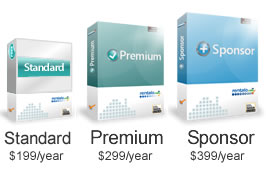 Sponsor
Premium
Standard
| | | | |
| --- | --- | --- | --- |
| Web Page Listing | | | |
| Private Leads | | | |
| Destination Leads | | | |
| Priority Placement | | | |
| One-Way Link | | | |
| Marketing Boost | | | |
Have Questions about our Products and Services?
Contact our friendly staff at +1.305.558.5577
for a free consultation
<!�custom code 2--> <!�chat code for rentalo-->