Brasov Vacation Rentals
Welcome to Brasov. Scroll down this page to find your favorite travel destination in Brasov and browse our extensve inventory of accommodations in Brasov. Leisure travelers planning their family vacations can get offers directly from owners of Brasov vacation homes or houses in Brasov. Sometimes these single rental units are referred to as Brasov cabins or Brasov villas. Other popular lodging options include vacation rentals in Brasov, Brasov apartments and condos in Brasov. For business travelers we offer several convenient hotels in Brasov or small boutique hotels in Brasov area, many with the ability to book online. If you are planning a romantic getaway in Brasov, we highy recommend our unique inventory of bed and breakfasts in Brasov. B&Bs can also referred as small country inns in Brasov.

Finding the perfect vacation rental property can be very time consuming. Unlike many other sites out there that demand travelers (like you) to invest countless hours browsing though each vacation rental listing, at Rentalo.com we make it easy for travelers to find best Brasov vacation rentals using our free inquiry service or Brasov lodging locator service. Save time searching for Brasov rental vacations and Brasov accommodations! Simply click the "Inquire Now" button, complete a short inquiry form, and within minutes you will start receiving multiple offers from Brasov vacation home rentals owners as well as from Brasov resorts, Brasov cabin rentals, and Brasov vacation homes.

Let Rentalo help you find the perfect place to stay for your next family vacation in Romania area. Our engine will match your specific inquiry criteria with each Brasov vacation rental listing, Brasov vacation house or Brasov villa in our Brasov rental vacations inventory. Finding Brasov vacation rentals by owner is easy with our free inquiry service. However, you can also browse our inventory of Brasov accommodation listings (as listed below) or use the SmartSearch tool to narrow down your search for Brasov lodging in Romania.
Enter your travel dates and number of people traveling (sleeps) and use one of the following search options:
Inquire on ALL Vacation Rentals in Brasov. Click "Inquire Now" (Fastest Option - Receive the most Offers)
Inquire on Selected Vacation Rentals in Brasov. Click "Check to inquire", then click "Inquire Now" (Time-Saving Option - Receive Offers from Selected Properties)
Inquire only on a Specific Brasov Vacation Rental (Take the time to review each property - Receive an offer on the Property you like)
Searching for elegance and comfort? you'll always find it if you visit hotel ambient, brasov, already a tradition name, counting more than a decade of excellence and experience. Ideally located in the ...
Read Full Description
Ambient guest house is one of the few establishments that has all the required facilities, has resonable prices and is situated in the heart of the city. The interior decoration was thought with taste ...
Read Full Description
the apartment luxor busteni is a cosy 3 star holiday apartment located in the heart of carpathian mountains in busteni mountain resort. Set in a spectacular mountainous landscape at the base of carai ...
Read Full Description
Residence ambient: new ways of tourism for new times embrace a whole new accommodation style in our vintage ambient residence! here you can enjoy comfortable and cozy ambiance at very affordable price ...
Read Full Description
the flat, spacious and confortable, can accomodate up 4 people in real beds. It is perfectly located in the central area of testaccio, probably the most authentic and vibing neighborhood in central r ...
Read Full Description
accommodation description : luxury villa (winter and summer as well) – 2 floors, 6 bedrooms, 8 bathroms summing 11 rooms. At the ground floor we have: bbq, dancing floor / living / dinning with firep ...
Read Full Description
The bed & breakfast magic garden is located in labico, a small town in the countryside of rome: a corner of peace and relax. We are in a strategic position: 35 kilometers from rome, and very close ...
Read Full Description
a cozy and charming b&b in the heart of the most lively and characteristic area in the heart of rome! elegantly furnished and equipped with every comfort. All rooms are en suite. its position is ...
Read Full Description
live vintage. Love luxury a sudden feeling that the past and present have made acquaintance and are having a lovely chat around you? well, it means you have finally reached your destination, the ambi ...
Read Full Description
Located in the proximity of one of the most challenging ski area in romania, close to poiana brasov ski resort. Each of the nine suites are unique in its mix of antique and modern designer furniture. ...
Read Full Description
Hotel cubix is a stylish hotel, with comfortable and spacious double rooms, excellent service, and convenient location in brasov on the main national road 1, near city center.
we offer free gu ...
Read Full Description
Description coming soon. 
 room types: business king non smoking:    one king smoking:    two twin non smoking: &nbs ...
Read Full Description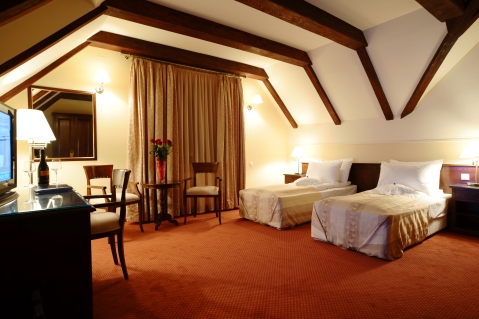 God afternon! i am inform you regarding the request for the guest anne marie starting date:26 dec 2013 til 31 dec 2013 , that the acomodation night/ room is 100e including breakfast and all the local ...
Read Full Description